A Farmer & a Chef Create a Restaurant in Greenville, SC
You won't find a neighborhood restaurant anywhere close to Greenville doing what farmer Roddy Pick and Chef Shawn Kelly set out to do: provide both neighbors and visitors alike the Upstate's freshest and most plentiful meats, produce, and products, both as a dine-in and carryout option.
This concept supports the idea that farmers and chefs can make a living supplying a community with its daily necessities, while also encouraging the enjoyment of a simple meal.
Just imagine: Wednesdays become your favorite lunch day of fresh and locally-sourced soups and salads with a friend. Then you get a favorite bottle of wine to bring home, coupled with carefully chosen side dishes and the best burgers in Greenville to throw on the grill. Or maybe you even have a long-standing Sunday brunch date or Happy Hour with neighbors.
This is what Fork and Plough strives for in the Overbrook Neighborhood, Greenville, and the Upstate of South Carolina. View the daily menu and make a reservation today. You won't find a restaurant in Greenville, SC, quite like Fork and Plough.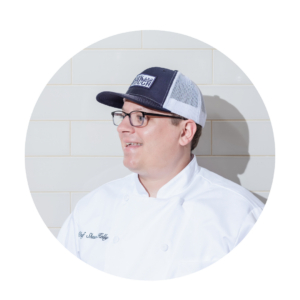 If you ask Shawn Kelly what he loves most about being a chef, you're likely to get two answers. First, he'll tell you it's about the opportunity to create unique and memorable dishes using the finest local ingredients. And with the same level of importance, he'll add that it's also about the amazing people he gets to work with and cook for each day.
Trained by iconic Charleston Chef Frank Lee, Shawn's path to cooking began at Slightly North of Broad (SNOB). Throughout his time at SNOB, Chef Kelly learned the value of working closely and collaborating with local growers, fishmongers, and suppliers to select the finest ingredients for his dishes. In 2014 Shawn was hired as executive chef of Charleston's High Cotton restaurant.
Since 2018, Shawn has been pursuing his dream, offering farm-to-table fare to locals, as chef/owner at Fork and Plough, Greenville's all-in-one restaurant, grocery store, and butcher shop.
Get a multi-sensory experience when you dine in at Fork and Plough.
Each quarter we feature a local artist's work on our walls, kicking off the quarter with an Artist Social. All displayed artwork is available for sale with 100% of proceeds going straight back to you.
Interested in having your artwork featured? Contact Making Space GVL with your website/portfolio.